A Guide to the Best Plans for Everyone in Texas
Choosing an electricity plan in Texas might look intimidating on the surface. In the deregulated market, there are many electric companies to choose from, each with different types of plans.
Home Energy Club looks for the cheapest electricity rates across the state. Some electricity companies offer cheaper rates on certain plans than others, so we're here to show you the best energy plans for every kind of Texas household.
Best Variable Rate Plan
Variable rate plans, as the name suggests, don't have a fixed rate that you sign a contract for. The bill follows market trends for the price of electricity in Texas of that month.
The advantage is that you might be paying less than your neighbor some months when the price of electricity drops. This usually happens in the spring and fall. The downside is that you might be paying more for your electricity when the demand— and therefore price— of electricity goes up in the summer or winter months.
Since prices fluctuate, we don't choose variable rate electricity plans to show you based on which are the cheapest. Instead, we show you the ones we determine to be the most trustworthy.
TXU Energy sometimes offers variable rate plans with no long-term contract and no cancellation fee. These electricity plans are some of the best deals on variable rates.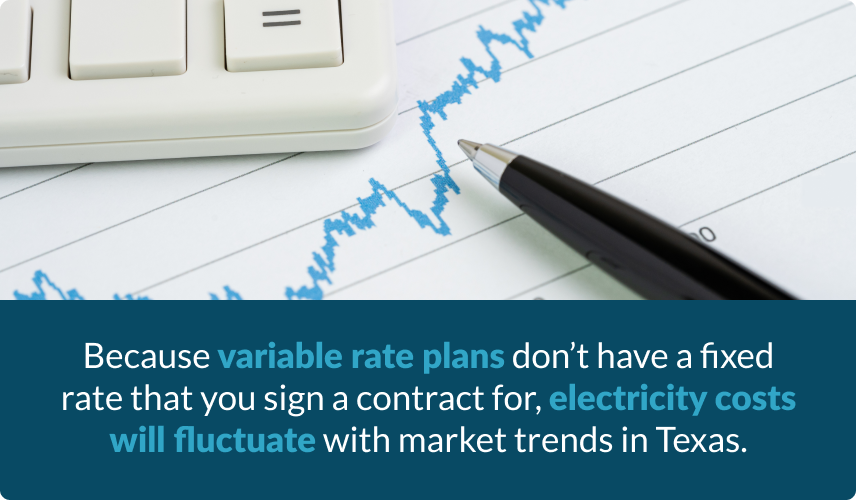 Best No Deposit Plan
When signing up for an electricity plan, companies will check your credit score and charge you a deposit based on the results. Usually, these deposits are several hundred dollars.
No deposit plans eliminate these fees, and instead vary your rate month-to-month. These electricity plans are a bit more rare than other types, but there are some companies that do them well.
Payless Power specializes in no deposit plans. They're one of the most trusted electricity companies in Texas with high ratings.
They offer a month-to-month and a twelve month plan. Payless' plans are straightforward with competitive rates.
Best Plan for Free Nights and Weekend
Not having to pay for electricity usage sounds like a dream. Some electricity companies have plans that offer free electricity on nights and weekends. Note that not every plan includes weekends, and the free nights are usually only for weeknights after a certain time. These plans aren't for everyone, but they can be worth it for Texas residents who have an empty house during the day due to work or school.
Sometimes the electricity rates for these free nights and weekend plans are slightly higher than more traditional plans, but if it fits your lifestyle, this pricing structure may very well be worth it.
Reliant Energy has been providing electricity to Texans for over 20 years. Their free night or weekend electricity plans are some of the best deals on energy and don't charge a delivery fee during the free electricity hours or days.
Best Electricity Plan for Large Homes
The bigger a house, the more energy required to light, heat, and cool it. Large homes also typically have more people living in them, which leads to even more energy consumption. Texas electricity companies recognize that electricity can be an expensive necessity, and have created plans to help folks in larger homes save money.
4Change Energy is one of the most trusted electricity providers in Texas. Every plan they offer comes with a Happiness Guarantee, making them preferred electricity plans for large homes due to their low, fixed rate.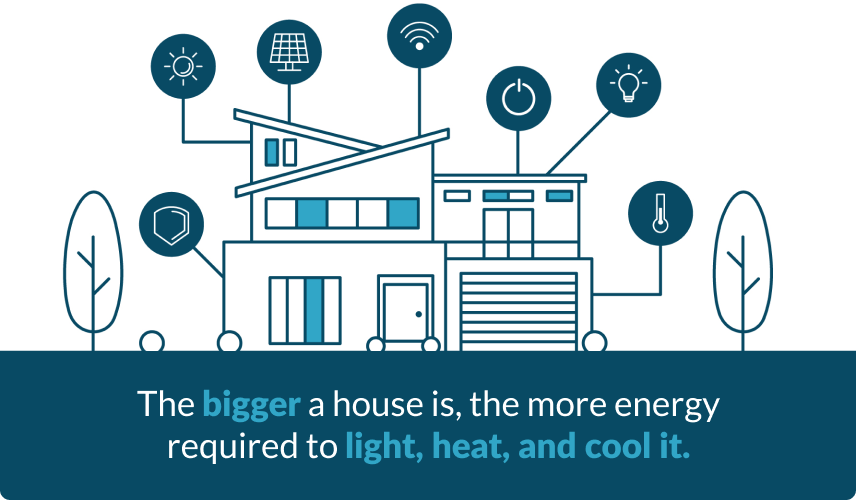 Best Electricity Plan for Small Homes and Apartments
Living in a smaller home or apartment generally means that you don't spend as much on electricity as those in larger houses, but there are still plenty of opportunities to save money.
For the cheapest electricity for small homes and apartments, we recommend Just Energy. Just Energy offers a $75 bill credit for using 1000kWh or more to help save even more money during those high-usage months.
Best Electricity Plan for a Business
Owning a business comes with its own set of worries and headaches–paying the electricity bill shouldn't be one of them. Electricity companies are willing to work with business and commercial building owners to find simple, cheap electricity rates.
Pulse Power is an excellent residential electricity company, but they are also one of the best commercial electricity providers in Texas. Their rates are low, and they offer top notch customer service. Get a quote from Pulse Power today for your small business electricity needs.
Best Green Energy Plan
Did you know that Texas is the largest producer of wind electricity in the United States? Texas is also second in solar energy! The size and beautiful climate of Texas means that we are capable of producing and distributing an incredible amount of green electricity.
Many electricity companies include a percentage of green energy in the electricity that they send to your home. There are also some providers that only sell green energy. These renewable energy companies often offer rates that are the same or lower than conventional electricity plans.
Gexa Energy is consistently one of the cheapest options for electricity, and they do it while providing 100% green energy. It's hard to choose which plan from Gexa to consider the best green energy plan since they are so well priced and all renewably sourced.
Enter Your Zip Code and Find the Best Rates
While these might be the best plans for your needs, rates could vary based on where you live. Enter your zip code to see the deals you can get with Home Energy Club.