Enrolling in an Electricity Plan Can Be Expensive
Deposits for an electricity plan in Texas can add up to as much as twice your average monthly bill. In many cases, the electricity deposit could total over $500!
For some people, it's worth it to pay a deposit in order to get a cheaper energy rate with a standard plan, but for others, paying that much up front just isn't realistic.
So what happens when you need to keep the lights on without a deposit?
If you're concerned about having to pay a deposit to get an affordable electricity plan, don't worry. Home Energy Club can find you the best deals on prepaid electricity plans with no deposit required.
What Does No Deposit Electricity Mean?
No deposit electricity is an option for customers that need a cost conscious route – you don't need to put any money down in order to get electricity in your home. This can happen in two ways:
You pass the

electricity company's

credit check when you fill out an enrollment form for an

energy plan

on Home Energy Club (or call the operator), and no deposit is required.

You don't pass the credit check and you are required to pay a deposit. In this case, if you don't wish to pay the deposit, then a "

no deposit electricity plan"

is the answer for you.
The no deposit plans do not require a credit check or contract, and are usually prepaid, meaning you pay a small amount for electricity at the beginning of the month instead of the end. Also, you will have same day electricity, since your electricity will usually be turned on the same day that you sign up.
Light companies that offer these plans will typically send daily updates of your electricity usage to let you know how much of a credit you have remaining in your account before you need to add money. They allow you to control how much money you have in your account based on how much electricity you think you will use.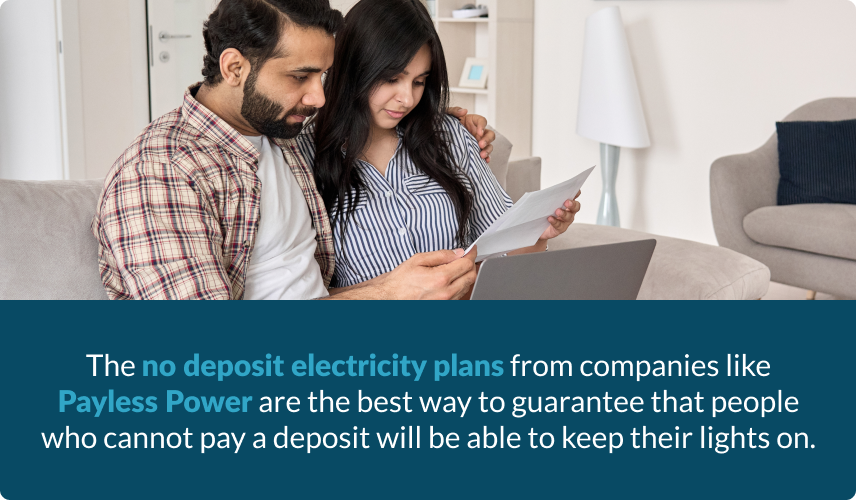 Should I Look for No Deposit Electricity?
While electricity providers generally do not require a deposit for customers with good credit histories, many people may not qualify due to financial challenges.
The no deposit electricity plans from companies like Payless Power are the best way to guarantee that people who cannot pay a deposit will be able to keep their lights on. The downside is that the price per kilowatt hour (kWh) for no deposit plans can be higher than post-paid, but the energy rates are still affordable.
Because no deposit is required, these electricity companies won't check your credit or make you sign a contract. All you have to do is make sure you have a small amount of money in your account with that electricity provider. If you are just starting off or recovering from a job loss or other financial problems, you have options for making sure you and your family have electricity.
Electricity Companies with No Deposits
Wondering which companies offer no deposit electricity plans? Home Energy Club does all the research "heavy-lifting" for you.
Not every electricity company offers no deposit plans, and sometimes the ones that do include hidden fees. We looked at the most trusted electric companies in Texas and compared the best prepaid no deposit plans for you.
Check out our list below of the most reliable companies with highly vetted no deposit energy plans. Then, the only thing you have to do is sign up for the plan that works best.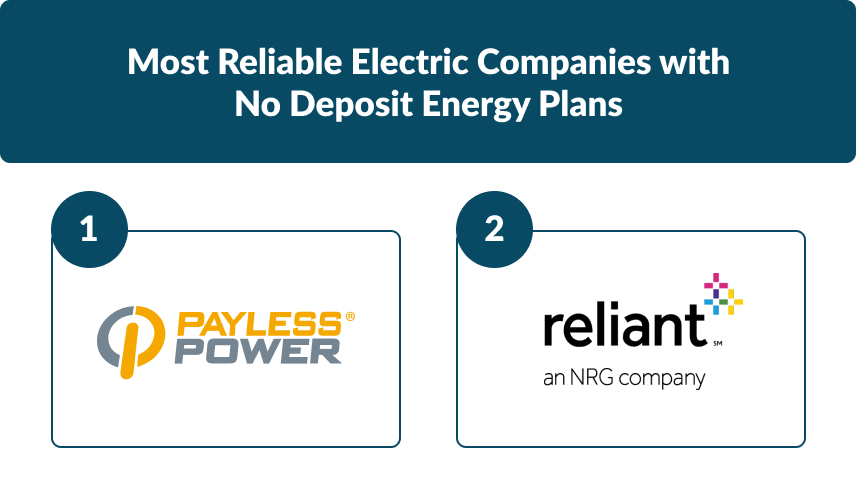 Texas Electricity Companies with No Deposit
Payless Power
Payless Power only offers prepaid no deposit plans. Payless sends daily updates with daily usage, the estimated days of electricity remaining, and the balance in your account.
They offer a few different electricity plans to choose from, including a 12-month locked rate, and a month-to-month with no commitment. All it takes is a small amount of money to put into your account that you can use to pay for your energy.
Payless' no deposit plans also have the advantage of no termination fees. When you find a better rate, you can cancel without any penalty.
Reliant Energy
Another trusted energy company, Reliant offers cheap energy plans with no credit check, no deposit, and no long-term contract.
The only disadvantage of Reliant is that they do not offer no deposit plans on a regular basis. Call Reliant today to find out if these plans are available.
Frequently Asked Questions
Do I need a credit check to get electricity without a deposit?
Nope! Energy providers won't check your credit history for prepaid plans. If you have good credit and want a more standard plan option, electricity companies will usually waive the deposit.
How do I know my balance?
The light companies that we recommend here at Home Energy Club send daily updates via text and email to let you know where you are at with your energy consumption. They also send statements outlining the previous month's use to make budgeting easier.
Do I have to sign a contract?
Again, no. Usually, no deposit electricity plans are month-to-month and there is no contract or early cancellation fee. Some companies, like Payless Power, offer an option to have a contract to lock in rates for a certain period of time.
How fast will I get electricity after I sign up?
You can get same day electricity as soon as you sign up in most cases! Otherwise, it's next-day service.
Get Electricity in Your Home Today!
Everyone needs electricity. No deposit energy plans are a fast, simple, accessible way to get electricity into your home. Home Energy Club wants you to feel good about choosing energy plans. For over a decade, we've been comparing rates and reviewing electricity companies to make sure Texans don't overpay for electricity. We'll help you find the cheapest no deposit option for you today.