Let's take matters into our own hands and fight climate
change together!

The effects of climate change are bearing down on the planet,
impacting all living things. We're running out of time, the clock is ticking, and we must act now.
Over 30% of
energy-related CO2 in the U.S. is associated with residential and commercial electricity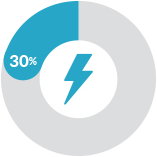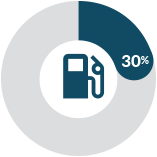 Another 30% is related
to the liquid transportation fuels that are transitioning to an electric-driven future.
WAITING FOR A POLITICAL SOLUTION IS NOT AN OPTION
Misinformation and disbelief in climate change abound, dampening the
bipartisan political will needed to address the biggest challenge of our time.
Less than 20% of home electricity is generated with renewable energy, which is needed to replace fossil fuels and cut CO2. Though there's  significant growth in wind and solar generation, the growth of national generation capacity of green energy is increasing too slowly to materially mitigate the dire impact  of climate disruption in the next decade.

The economics of wind and solar facilities must improve to encourage construction of an immense amount of additional renewable energy generation capacity needed to replace fossil-sourced energy in the electric grid. With government subsidies dependent on political uncertainties, the economics must be based on market forces to ensure success.

WHY IS GREEN ENERGY GENERATION GROWING TOO SLOW?
A lack of consumer demand due to premium pricing of 100% green electricity plans.
To immediately drive up demand for green energy plans and create mass adoption to combat climate change, we need a market-driven solution that DOES NOT:
Cost the consumer any more than they are currently
paying for energy
Cause inconvenience to consumers in taking action
Require changes in purchase patterns to unfamiliar
brands
Depend on politics
Require new technology advancements or additional
infrastructure
HOW CAN WE INDIVIDUALLY MAKE AN IMPACT NOW?
If large numbers of homeowners and companies in deregulated energy states (where consumers have a choice of providers and energy plans) will take the step of switching their electricity from a fossil-fuel plan to a 100% "green" energy plan, we can meaningfully reduce CO2 emissions over the next decade.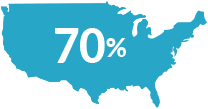 About 70% of the U.S.
population lives in deregulated electricity states, which include Texas, Pennsylvania, New York, New Jersey, Connecticut, Ohio, Maryland, Massachusetts, Ohio, Illinois, Michigan, Maine, New Hampshire, Delaware, and Rhode Island. Washington DC. is also deregulated.
Currently, in the deregulated states, less than 10% of homeowners select 100% renewable energy plans because they are more expensive than fossil-fuel plans. Even when the price premium for green is one percent, only a small percentage of residents switch to green.
PRICE PARITY OF GREEN ENERGY AND FOSSIL ENERGY
MASS ADOPTION WILL ONLY OCCUR WHEN
GREEN ENERGY REACHES THE SAME PRICE AS FOSSIL ENERGY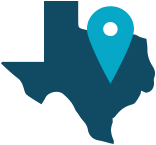 Electricity Club, the leading digital marketing of residential electricity, has brought together the largest energy providers in de-regulated states to create the world's first "green price parity" platforms – HomeEnergyClub.com and GetGreenEnergy.com – offering lower-than-fossil pricing across major brands with one-stop convenience.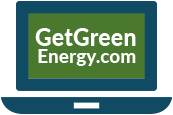 HomeEnergyClub.com and GetGreenEnergy.com represent major milestones in renewable energy adoption and combatting climate change.

Because no government action is required and consumers actually save money by buying green energy, the platforms remove politics from climate change and will find broad support.
HOME ENERGY CLUB AND GET GREEN ENERGY
OFFER CONSUMERS:

100% green energy
plans at pricing less than fossil plans (better than parity)

Convenient 10-minute online
and operator-assisted
enrollment

No investment of any kind required (unlike home solar panels)

Availability in all deregulated electricity states, starting in Texas

A selection of electricity providers representing over 50% of the market in order to minimize brand resistance

An opportunity for consumers to take action immediately and move the nation toward a net zero CO² future without requiring government intervention, new technology or additional infrastructure…
and save money in the process.

A unique marketing channel for energy providers in which they will incur significantly lower customer acquisition costs by offering their plans on our platforms versus their traditional advertising channels such as television, radio, billboard, and door-to-door sales.
LOWER CUSTOMER ACQUISITION COST MAKES PRICE PARITY SUSTAINABLE*

By dramatically reducing providers' marketing costs, the platforms will allow them to sustainably sell green for less than fossil, even if mass adoption of green plans pushes up the wholesale price providers pay for renewable energy.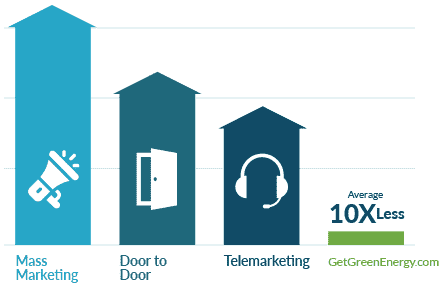 * Upfront cost, based on survey of major energy providers
Significantly increased construction of wind and solar capacity due to an exponential increase in demand for 100% green energy plans, pushing up wholesale prices paid to generators. The green energy mix in the grid will increase at the expense of fossil, driving down CO².


DRIVES UP CONSUMER DEMAND


DRIVES UP GREEN GENERATION


PUBLIC AWARENESS
To succeed, consumers must know they can purchase renewable-sourced electricity at a lower price than fossil with little effort.
It's important that we spread the word with urgency. CO² levels are increasing at alarming rates and the thunderous warnings of climate change have become ever louder, alerting us to dangers for our planet, families and future generations.
But we can change this, together, now.
If you are:
An influencer or organization who cares about climate change
A local, state or national news outlet or journalist who produces stories about climate change or renewable energy
A foundation that has climate change or renewable energy initiatives
A politician who would be attracted to our market-based solution for climate change, and might include us in your press releases and platforms
An academic institution that disseminates climate change and energy information
A digital company that can help inform consumers about HomeEnergyClub.com and GetGreenEnergy.com in social platforms
A company or membership group that can spread the word to employees and customers. HomeEnergyClub.com and GetGreenEnergy.com can even create a custom landing page on its website where your employees or members can save money on electricity while safeguarding the planet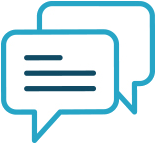 WE NEED YOUR HELP IN SPREADING THE WORD AND FIGHTING CLIMATE CHANGE,

TOGETHER.