Payless Power is without a doubt the best no-deposit electric company in Texas. They offer simple "no deposit" prepaid electricity plans if you want to avoid paying a deposit, with no credit check and same-day electricity.
And their affordable rates can help you lower your energy bill. Enter your zip code to review Payless plans and rates, or speak with a Payless operator at 833-926-9776. You can gain an instant discount directly on the Payless site by clicking here.
Payless is reputable light company and on Home Energy Club you can quickly choose one of Payless electricity rate plans, such as:
Prepaid plans, which are same-day electricity plans with no credit check and no deposit required
Flex Pay plans, which allow you to recharge your account at your convenience
Month-to-month plans, which come with a flat-rate plan, flexible terms, no contract commitment
Fixed-rate plans, which offer locked-in rates and bills that are more predictable for 12 months or more
For operator help, call Payless Power directly at 833-926-9776.

Compare Payless Power Plans to Competing Light Companies in Texas


2 Payless No-Deposit
| | | |
| --- | --- | --- |
| Payless Power - Premier 12 - No Deposit & No Credit Check | 12 Months | 21.5 ¢/kWh |
| Payless Power - Simple 6 - No Deposit & No Credit Check | 6 Months | 21.8 ¢/kWh |
These rates are for Oncor service areas.
Pricing shown is based on an exact usage of

1000

kWh.
Call Payless Power for no-deposit plans directly at 833-926-9776.
6 Plans & Rates from 4Change Energy (affiliate of TXU)
| | | |
| --- | --- | --- |
| 4Change - Maxx Saver Select 24 | 24 Months | 12.9 ¢/kWh |
| 4Change - Maxx Saver Select 12 | 12 Months | 14.9 ¢/kWh |
| 4Change - Charitable Saver 12 | 12 Months | 16.5 ¢/kWh |
| 4Change - Cash Money 12 | 12 Months | 17.5 ¢/kWh |
| 4Change - One Rate 24 | 24 Months | 17.9 ¢/kWh |
| 4Change - One Rate 12 | 12 Months | 18.9 ¢/kWh |
These rates are for Oncor service areas.
Pricing shown is based on an exact usage of

1000

kWh.
These plans passed our TrustPlan™ vetting. Speak with 4Change Energy for operator help at 888-366-7291.
6 Reliant Energy Rates
| | | |
| --- | --- | --- |
| Reliant - Truly Free Weekends 100% Solar 24 | 24 Months | 20.1 ¢/kWh |
| Reliant - Truly Free Nights 100% Solar 24 | 24 Months | 20.1 ¢/kWh |
| Reliant - Truly Free Flex Days 100% Solar 24 | 24 Months | 20.1 ¢/kWh |
| Reliant - Basic Power 18 | 18 Months | 23.7 ¢/kWh |
| Reliant - Conservation 12 | 12 Months | 24.5 ¢/kWh |
| Reliant - Basic Power 12 | 12 Months | 24.7 ¢/kWh |
These rates are for Oncor service areas.
Pricing shown is based on an exact usage of

1000

kWh.
Speak with a Reliant Energy operator for expert help at 833-339-0416.
Payless Power Reviews & Ratings
At Home Energy Club, we provide ratings from reputable sources like the Better Business Bureau (BBB), and links to the State of Texas Complaints site, as well as reviews from independent third party sites that have no relationship with electricity providers, such as Google and Yelp.
Payless Power has a rating of "A" or better with the Better Business Bureau. To know how Payless Power fares in comparison with other prepaid light companies in Texas, check out our Texas Electric Companies Reviews main page. You can also find more information on the Public Utility Commission of Texas site.
We use third party information along with our Home Energy Club/Amazon customer rating survey results to determine a Home Energy Club (HEC) rating for electric companies.
HEC Payless Power Rating: 4.6/5
Payless Power BBB Rating: A
Payless Power Customer Ratings
Payless has solid ratings on the reviewed categories. Their highest scored category is Billing Quality with a 4.6.
Payless Power Customer Reviews
Payless Power Prepaid Electricity Plans
To simplify and speed up the process of shopping for electricity plans, Payless Power provides instant approval on their prepaid electricity plans (click here to view plans). Plus, you can receive same day electricity. Tailor-made pay in advance plans add convenience, giving you the power to access and manage your account. Speak with a Payless operator if you have questions at 833-926-9776.
Different term lengths often have different price points, so if customers are flexible with the length of the contract, they can find a cheaper rate. Most of these plans either offer variable rates with no credit check and no deposit electricity; the fixed-rate plans provide the benefit of longer-term price stability.
Payless Power SmarTricity Premier Prepaid Plan
Payless Power SmarTricity Premier plan is a fixed-rate energy plan. By paying $75 upfront as a connection balance, which goes into the prepaid electricity bill payment, customers can monitor their usage.
Payless Power SmarTricity Secure Saver Prepaid Plan
Payless Power SmarTricity Secure Saver Prepaid plan has a rate that's competitive with regular long-term plans from some big brand providers. Enrolling in this plan ensures savings when you keep a positive account balance of $35 or more.
Payless Power SmarTricity Flex Saver Prepaid Plan
SmarTricity Flex Saver plan is a prepaid electricity plan that offers all the benefits of the SmarTricity Secure Saver plan. You can opt for no deposit electricity with this plan, or take a discount of 2 cents per kWh for deposits ranging from $75-149.99 and 4 cents per kWh for over $150.
Payless Power SmarTricity Easy Choice Prepaid Plan
Payless Power SmarTricity Easy Choice is another no deposit, month-to-month, prepaid electricity plan based on variable rates suitable for cheap apartments with no credit check. It offers no gimmick, transparent pricing with a price structure that includes:
Daily flat rate charges that cover up to the first 17 kWh of usage per day (for a monthly billing cycle, it is up to the first 510 kWh of usage per month)
After exceeding this limit, you pay a fixed energy charge per kWh and the delivery charges.
Payless also offers free nights and weekends plans.
The Texas deregulated energy market gives the customer the power to choose an electric company that supplies their energy in cities across Texas, including Dallas and Fort Worth electricity, Houston and Corpus Christi electricity.
When shopping for low-rate electricity plans or comparing retail electricity providers in your area, read our Electricity Facts Label (EFL) guide to help you learn how to determine the price point an individual plan will offer based on your usage. It is a good idea to compare Payless Power's prepaid energy rates and plans to those of other Texas electric suppliers. Find an energy plan suitable for your home by entering your zip code on this page.
Beware of the State of Texas Power to Choose website if you are comparing electricity plans due to severe issues that have been reported in the media and acknowledged by the state legislature, which has considered closing the site.

Payless Power Green Electricity Plans
Most electricity is generated with the use of polluting, non-renewable sources like coal, natural gas, and other sources that emit gases such as CO2 which are responsible for climate change. See our infograph to see how much pollution your regular energy plan is emitting versus a green energy plan in Texas.
Using renewable energy sources to power our energy consumption is a win-win situation for both the planet and us. Alternate "green" sources of energy such as wind and solar electricity are pollution-free and naturally replenished.
Although Payless Power does not offer 100% renewable energy plans, the electric company is doing its part to save the planet. Many of the Payless Power prepaid electricity plans have varying percentages of renewable content.
Review the EFL of your preferred energy plan to pick the right one for you. Supporting clean electricity will make a difference in safeguarding the planet.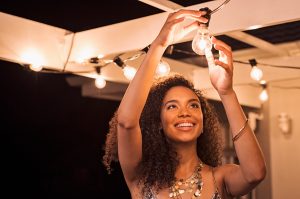 Payless Electric Features: No Deposit Lights and More
In addition to being a premier no deposit light company, Payless Power offers many special features to help you manage your energy and save on bills.
Daily Usage Notifications
Payless Power sends regular alerts on text or email about the usage and prepaid electricity balance information. This feature allows you to track and monitor your power usage to achieve maximum savings.
Flexible Payless Power Bill Pay
With its prepaid plans, you have the flexibility of making a Payless Power bill pay monthly, bi-weekly, or even more frequently. Make payments on your phone or computer, or also pay cash in person.
Payless Power Cancellation Fees
With Payless Power's prepaid plans, there are no cancellation fees. For some plans you can pay a lower price if you place a modest deposit.
Transparent Pricing
There are no hidden fees on the Payless Power same-day electricity plans. What you see on the plan's EFL is what you get and pay for.
Recharge from Anywhere
With Payless Power SmartTricity prepaid electricity plans, you have the option to recharge your account at any time. Add to the balance from your phone or online with the pay-as-you-go option.

Savings with Payless Power Promo Codes
For customers signing up for the first time, Payless Power offers many incentives, such as a discount rate on electricity for maintaining a small minimum account balance. Payless provides universal approval and a Flex Pay Energy Discount on prepaid electricity plans to all residents in the Texas service areas, with no credit check.
Check to see if Payless Power energy promo codes are featured this month and view discount referral codes from other electric suppliers in Texas.

Starting or Renewing a Payless Power Prepaid Electric Plan
Signing up for a Payless Power prepaid electricity plan is pretty simple.
Click here to view the day's cheapest electricity rates from Payless Power directly on their site.
Choose a plan that works for you and sign up online or over the phone at 833-926-9776.
Get same-day electricity from Payless.
Payless Power caters to customers that have advanced smart meters in Texas to check electric usage in real-time. If a consumer doesn't have a smart meter installed, Payless Power helps coordinate the process of having one installed.
They also offer pay as you go electricity for consumers who may want to avoid paying deposits.
Customers can monitor electricity usage in real time so that they can optimally use the remaining balance in their prepaid electricity plan.
To renew prepaid plans, add funds to the balance of your account. For example, with SmartTricity prepaid plans, you can recharge your account at any time.

Payless Power: Who to Report an Outage?
Sudden loss of electric supply may disrupt your daily life. Payless Power is a retail electric company, but not a utility company (TDSP/TDU) like Oncor, Centerpoint, TNMP or AEP.
Your TDSP (Transportation Distribution Service Provider) or TDU (Transmission and Distribution Utility), which is responsible for the wires, poles, and other infrastructure, may not be aware of the power outage. You need to report the outage in your service area to the TDU:
Centerpoint Energy: (800) 332-7143
Texas New Mexico Power (TNMP): 888-866-7456
AEP Texas: (866) 223-8508
Oncor Electric Delivery (formerly TXU): (888) 313-4747

Payless Power Customer Service
Payless Power customer service center is open Monday through Friday during regular business hours and early evenings, and on Saturdays during business hours.
Payless Login Link
Access your account online at the Payless Power login.
Payless Power Phone Number
Connect with Payless Power customer service by calling Payless phone number 833-926-9776.

About Payless Power
Payless Power, a BBB-accredited company, offers flexible payment options and same-day electricity plans for customers looking for low-cost prepaid electric companies in Texas.
Among other Texas electric providers that provide prepaid electricity, customers can choose from weekly or bi-monthly payment options besides month-to-month electricity bill payment.
Payless Power Business Information
Payless Power's headquarters in Texas are located in:
P.O. Box 975428, Dallas, Texas 75397
You can reach their corporate headquarters at 1 833-926-9776.
If you want to sign up for a plan you can either enroll online or call 833-926-9776.

Payless Power Frequently Asked Questions
Where to compare Payless Power plans, rates, and reviews?
You can choose from vetted energy plans to cut bill surprises, view special discount rates, and learn about customer satisfaction based on verified Payless Power reviews on HomeEnergyClub.com. If you don't find Payless plans on our site today, go directly to the Payless site to view rates and enroll by clicking here, or call a Payless operator at 833-926-9776.
Home Energy Club uses its bargaining power with energy providers to deliver rates that are lower than the rates you'll find on the energy provider sites. You can learn more about Payless Power and read thousands of unbiased, independent reviews, ratings, and complaint statistics for over 40 electric companies from objective sources such as the BBB, State of Texas, and Google and Yelp.
How to find Payless Power promo code for a rate discount?
Visit the Payless Power profile page on HomeEnergyClub.com to see if we are featuring exclusive promo codes this month that provide instant discounts on Payless Power's plans.
What are some Payless Power bill payment methods?
Payless offers the following bill payment methods, and you can reduce your monthly bills by checking the Payless Power profile page on HomeEnergyClub.com for exclusive promo codes to receive reduced rates when you enroll in a plan:
Online bill pay mode via the Payless Power login customer portal
Card payments with Visa, MasterCard, American Express and Discover
Set up automatic payments to avoid missing a payment
Pay over the phone with their 24/7 available automated system
Cash payments in person at Moneygram locations around the country
How to access my smart meter information?
To access your meter information, register your meter with Smart Meter Texas at www.smartmetertexas.com, a state-operated free site, where you can see your meter readings collected every 15 minutes. You'll find your home's electricity usage history here, and you can learn about how to use Smart Meter information to lower your bills at HomeEnergyClub.com.
To register on the Smart Meter site, you need to provide details found on your electric bill, such as:
Meter number
ESI ID number
Electricity provider information
What is the process to transfer my service to a new address?
Payless Power prepaid electricity plans cannot be transferred to a new address. But you can create a new account at the new address.
How to cancel my service with Payless Power?
Disconnection of the service is not a cancellation. To cancel your Payless Power service, call the Payless Power customer service number at 833-926-9776 and get the final invoice generated to clear the pending payments or get a refund. Find special Home Energy Club discount rates for other top electric by entering your zip code on the comparison site.
How to get my Payless Power service reconnected? 
Service interruption may happen when there is a negative balance. To get the service reconnected, you will need to pay the negative balance and an extra $35 fee. Service will reconnect within 2 hours after you bring the account balance to $35 or more; or, in case of a technical issue with the meter, reconnection will happen only on the next business day.
Does Payless Power provide paper bills?
Payless Power offers prepaid electricity plans, which means you pay in advance for your usage. Thus, you will not receive a monthly bill as with other Texas electric companies. Your smart meter sends the readings to Payless Power, and the electric company sends you the usage information and remaining balance after the daily charges are deducted.
Does Payless offer plans with no deposit required?
Payless Power does not require you to pay a deposit upfront or ask to see your credit history for their energy plans. You can get instant approval for a Payless Power plan with no ID and no credit check, and receive no deposit electricity without any extra charges on the same day.
Payless Power Texas Cities Serviced
Payless Power has electric rates across all of Texas' de-regulated towns and cities. Find your city below.
Or just enter your zip code in one of the zip code boxes on this page. It's fast and simple to find rates for your zip.
| | | |
| --- | --- | --- |
| ABILENE | ADDISON | ALAMO |
| ALBANY | ALEDO | ALICE |
| ALLEN | ALPINE | ALVARADO |
| ALVIN | ALVORD | ANDREWS |
| ANGLETON | ANSON | ARANSAS PASS |
| ARCHER CITY | ARGYLE | ARLINGTON |
| ARROYO CITY | ASPERMONT | ATHENS |
| ATLANTA | AUBREY | AUSTWELL |
| AZLE | BACLIFF | BAIRD |
| BALCH SPRINGS | BALLINGER | BALMORHEA |
| BARKSDALE | BAY CITY | BAYTOWN |
| BEDFORD | BEEVILLE | BELLAIRE |
| BELLMEAD | BELTON | BENBROOK |
| BIG LAKE | BIG SPRING | BISHOP |
| BLOOMING GROVE | BONHAM | BOOKER |
| BRACKETTVILLE | BRAZORIA | BRECKENRIDGE |
| BRONTE | BROOKSHIRE | BROWNWOOD |
| BUFFALO | BURKBURNETT | BURLESON |
| CAMERON | CANTON | CARRIZO SPRINGS |
| CARROLLTON | CEDAR HILL | CEDAR PARK |
| CENTERVILLE | CHANNELVIEW | CHILDRESS |
| CHRISTOVAL | CISCO | CLARENDON |
| CLARKSVILLE | CLEBURNE | CLIFTON |
| CLUTE | CLYDE | COLLINSVILLE |
| COLORADO CITY | COLUMBUS | COMANCHE |
| COMMERCE | COMSTOCK | COOPER |
| COPPELL | COPPERAS COVE | CORPUS CHRISTI |
| CORSICANA | COTULLA | CRANE |
| CROCKETT | CROSBY | CROSS PLAINS |
| CROSSROADS | CROWELL | CRYSTAL CITY |
| CYPRESS | DALLAS | DE LEON |
| DE SOTO | DECATUR | DEER PARK |
| DEL RIO | DENISON | DEVINE |
| DIBOLL | DICKENS | DICKINSON |
| DILLEY | DONNA | DUBLIN |
| DUMAS | DUNCANVILLE | EAGLE LAKE |
| EAGLE PASS | EARLY | EASTLAND |
| EDEN | EDGEWOOD | EDINBURG |
| EDNA | EDOM | EGYPT |
| EL CAMPO | ELDORADO | ELECTRA |
| ELGIN | ENNIS | ESCOBARES |
| ETOILE | EULESS | EUSTACE |
| FALCON HEIGHTS | FALFURRIAS | FARMERS BRANCH |
| FLINT | FLO | FOREST HILL |
| FORNEY | FORT DAVIS | FORT STOCKTON |
| FORT WORTH | FREEPORT | FREER |
| FRISCO | FULTON | GAINESVILLE |
| GALENA PARK | GALVESTON | GATESVILLE |
| GEORGE WEST | GOLIAD | GRAFORD |
| GRAHAM | GRANBURY | GRAND PRAIRIE |
| GRANDVIEW | GRAPEVINE | GUN BARREL CITY |
| HALLETTSVILLE | HALTOM CITY | HAMILTON |
| HAMLIN | HARKER HEIGHTS | HARLINGEN |
| HASKELL | HEBBRONVILLE | HENRIETTA |
| HIDALGO | HILLSBORO | HITCHCOCK |
| HOUSTON | HUBBARD | HUDSON |
| HUMBLE | HUNTINGTON | HURST |
| HUTCHINS | INGLESIDE | IRAAN |
| IRVING | ITALY | JACKSBORO |
| JERSEY VILLAGE | JEWETT | JOHNSON CITY |
| JOURDANTON | JUNCTION | KARNES CITY |
| KATY | KAUFMAN | KEENE |
| KELLER | KEMAH | KENEDY |
| KERMIT | KILLEEN | KINGSVILLE |
| KNOX CITY | LA FERIA | LA MARQUE |
| LA PORTE | LACY LAKEVIEW | LADONIA |
| LAGUNA PARK | LAJITAS | LAKE JACKSON |
| LAKE WHITNEY | LAKE WORTH | LAMESA |
| LANCASTER | LAREDO | LEAGUE CITY |
| LEAKEY | LEONA | LEWISVILLE |
| LINDALE | LIVERPOOL | LOG CABIN |
| LOS FRESNOS | LUFKIN | LYTLE |
| MABANK | MAGNOLIA | MALAKOFF |
| MALONE | MANOR | MANSFIELD |
| MARFA | MATHIS | MC ALLEN |
| MC GREGOR | MC KINNEY | MEMPHIS |
| MENARD | MERCEDES | MERKEL |
| MESQUITE | MIDLAND | MIDLOTHIAN |
| MILANO | MILFORD | MINERAL WELLS |
| MISSION | MONAHANS | MUENSTER |
| MUNDAY | NACOGDOCHES | NASSAU BAY |
| NECHES | NOCONA | NORTH RICHLAND HILLS |
| NORTHLAKE | ODEM | ODESSA |
| OLNEY | ORANGE GROVE | OZONA |
| PADUCAH | PAINT ROCK | PALACIOS |
| PALESTINE | PALMER | PALMVIEW |
| PARIS | PASADENA | PEARLAND |
| PEARSALL | PECOS | PENITAS |
| PERRYTON | PHARR | PILOT POINT |
| PLANO | PLEASANTON | PORT ARANSAS |
| PORT ISABEL | PORT LAVACA | PORT MANSFIELD |
| PORT O CONNOR | PORTLAND | POTTSBORO |
| PRAIRE VIEW | PREMONT | PRESIDIO |
| QUANAH | QUINLAN | QUINTANA |
| RACHEL | RAINBOW | RANCHO VIEJO |
| RANGER | RANKIN | RAYMONDVILLE |
| RED OAK | REFUGIO | REKLAW |
| RICHARDSON | RICHLAND | RICHLAND HILLS |
| RICHMOND | RIO GRANDE CITY | RIO HONDO |
| RIVIERA | RIVIERA BEACH | ROANOKE |
| ROBERT LEE | ROCKDALE | ROCKPORT |
| ROCKSPRINGS | ROCKWALL | ROMA |
| ROSENBERG | ROTAN | ROUND ROCK |
| ROUND TOP | ROWLETT | ROYSE CITY |
| RUIDOSA | RULE | SABINAL |
| SAGINAW | SAINT JO | SALADO |
| SAN ANGELO | SAN BENITO | SAN JUAN |
| SAN LEON | SANDIA | SANTA ANNA |
| SARGENT | SEABROOK | SEADRIFT |
| SEAGOVILLE | SEALY | SEGUIN |
| SHAMROCK | SHEFFIELD | SHERMAN |
| SINTON | SNYDER | SONORA |
| SOUTH HOUSTON | SOUTH PADRE ISLAND | SPEARMAN |
| SPRING | SPRINGTOWN | SPUR |
| STAFFORD | STAMFORD | STEPHENVILLE |
| SUGAR LAND | SULPHUR SPRINGS | SURFSIDE BEACH |
| SWEETWATER | SYNDER | TAFT |
| TAYLOR | TEMPLE | TERLINGUA |
| TERRELL | TEXAS CITY | THE COLONY |
| THREE RIVERS | THROCKMORTON | TIVOLI |
| TOMBALL | TULETA | TYLER |
| UVALDE | VAN | VAN ALSTYNE |
| VERNON | VICTORIA | WACO |
| WAXAHACHIE | WEBSTER | WELLINGTON |
| WESLACO | WEST COLUMBIA | WEST TAWAKONI |
| WESTLAKE | WHARTON | WHITE SETTLEMENT |
| WHITEWRIGHT | WHITNEY | WICHITA FALLS |
| WILLS POINT | WIMBERLEY | WINTERS |
| WOLFE CITY | WOODWAY | YANTIS |
| YORKTOWN | ZAPATA | ZAVALLA |
Payless Power Top Zip Codes Serviced
Looking for low electric prices in a specific zip code? Click on your zip code below for the cheapest energy rates and plans in your zip.
If you can't find your zip code below, enter it in one of the boxes on this page.
| | | |
| --- | --- | --- |
| 75023 | 77095 | 75024 |
| 76116 | 76180 | 76063 |
| 75204 | 77433 | 78660 |
| 75067 | 77429 | 75219 |
| 75052 | 77084 | 77054 |
| 75287 | 77386 | 75074 |
| 75093 | 77584 | 75206 |
| 76179 | 77379 | 76028 |
| 77077 | 76021 | 76017 |
| 76137 | 77498 | 75063 |
| 77449 | 75025 | 77407 |
| 75039 | 77450 | 77573 |
| 76825 | 77007 | 77494 |
| 77025 | 77459 | 76039 |
| 77346 | 75019 | 76107 |
| 76131 | 77479 | 76051 |
| 75075 | 78681 | 75125 |