Below you will find information and convenient links for American Electric Power (AEP) and their real-time outage map, and severe weather links for Central/South Texas (including Corpus Christi, Abilene, McAllen, Harlingen, San Angelo, Vernon, Victoria, and Laredo). You will also find important move-in, usage and and rate information.
American Electric Power Outages
In the event of an electricity outage in Central/South Texas, call AEP's power outage number at 866-223-8508. You can view the AEP Texas Outage Map which displays a map of Texas and up to date power status of AEP's service areas.
You can read our helpful power outage phone guide for the appropriate energy provider outage numbers for your area. Below you can find the best available resources to determine the current status of outages and weather in your area.
AEP Power Outage Map
AEP is a transmission and distribution utility (TDU) serving about 10 percent of the electricity demand in 38 states, including the ERCOT transmission system in Texas.
AEP Texas restores service following outages, builds new power lines, and uses advanced smart meters to record electric use for retail energy providers throughout its service territory.
The AEP Texas Outage Map allows you to:
Review the number of outages in your vicinity by city, county and zip code
View the map based on your county and zip code for a more complete overview of power outages
Sign up for outage alerts and information by email, text, and phone calls
View the number of current customers experiencing a power outage in each area as indicated by the following legend: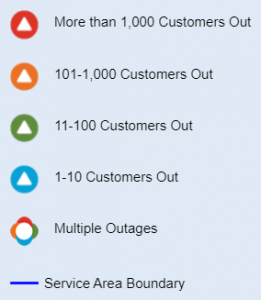 Best Weather Sites in AEP's Territory and Alerts
Call the Transmission & Distribution Utility (TDU) to Report an Outage, not the Provider
When an electrical outage occurs, you'll receive a quicker, more attentive response by contacting the TDU (such as AEP) rather than the electric company who provides your energy in Texas. It's helpful to understand the difference between the TDU (also called TDSP) and electric company and to have a list of Texas TDU phone numbers you can contact in Texas when a power outage occurs in your zip code. For profiles and other information on other TDUs, see our Texas Electric Utilities main page.
Use Smart Meter Texas to See How an Outage Affects your Usage
When a Central/South Texas area power outage occurs, check the effects that the power outage is had on your energy use for a given month by evaluating your Smart Meter Texas meter usage data. If you wish to effortlessly view your meter usage history gathered by AEP Texas, you can set up an account with Smart Meter Texas. First, you could also read our informative guide on Smart Meters.
Protect Yourself from Electricity Bill Rate Spikes due to Demand Surges Caused by Outages
Power outages caused by surging electricity demand can result in substantial energy rate spikes, creating serious increases in your monthly energy bill if you are not on a fixed-rate plan which locks in your rate for the term of your contract. Spikes in demand are most likely to occur during the stifling Texas summer months when electricity demand is at its highest.
Energy Rates: If you are on a variable energy rate plan such as a wholesale rate plan that floats with the market, an index rate plan, or month-to-month plan, you can prevent unpredictable bill surprises by enrolling in a fixed-rate plan from the most trusted Central/South Texas electric companies on our home page. Use our helpful Electricity Fact Label Guide to decide whether an energy plan is a good fit with respect to your home's energy usage.
Central/South Texas Energy Promo Code Deals: Use our exclusive Central/South Texas energy referral codes (aka discount codes and promo codes) to receive discounted electricity rates with the best light companies in Texas.
What Do You Do in The Event of a Power Outage?
Electrical surges that happen after power outages can damage your electronic devices — so it's a good idea to unplug your devices after a power outage occurs.
Keep your refrigerator and freezer shut at all times.
Check with your neighbors or others in your area to confirm the outage is not just at your house.
Try to find an electricity source for your power-dependent medical devices.
Go to another location in case of an immediate need for cooling or heating.
The immediate thing that you should do in the case of an electric outage is unplug all of your electronic devices until the outage is finished. Then, find the correct phone number to call based on your location to estimate when the outage will be over. Also, check the informative AEP Texas Outage Map.
If it's cold, it is advised by experts that you don't use a gas stove for heating due to health and safety risks. In case you experience frequent outages, you can prepare by having extra batteries and other energy sources for backup power. Also, you may wish to consider having a landline home phone available, which will function without power so you can make calls in case of emergencies. Extra power sources like portable battery packs are also important for medical devices requiring electricity.
If you wish to use a generator, place it outside your home and keep it away from windows and doors. If you live in a rural area and solely rely on your generator for power, have an extra supply of gas that you could use in special circumstances.
Don't forget to follow the above-mentioned steps if there's an outage in your area. Print out and keep the phone numbers to call in case of outages in a location you can remember, and save it in your phone's contacts.
American Electric Power Move-in Information for Starting your Electric Service
Below is information for moving into houses with an existing meter and without a meter in Central/South Texas.
3 Steps to Start Electric Service in Central/South Texas if your Meter is Installed
Here are the steps if the home you are moving into has an existing meter:
Choose an electricity company (also called a retail energy provider):
Enroll in an energy plan from the light company of your choice. You can view our TrustPlan™-vetted plans from top energy providers and enroll in a low cost, fixed-rate plan in less than 10 minutes by entering your zip code on our main home page.
Your new electric company will send a request to start service to American Electric Power. When AEP receives that request, they will flip the switch and turn on your electricity on the date you request, presuming that the weather and other jobs scheduled allow.
5 Steps to Start Electric Service in Central/South Texas if you Don't have a Meter Installed
Here are the steps if your new house does not have a meter installed:
Call AEP Texas at the following number:

If you are a homeowner or business owner, call 866-223-8508 to have AEP Texas create an Electric Service Identifier number (ESI ID).

Choose an energy provider (also called an electric company or light company) at least 2 business days after you obtain your ESI ID number.
Enroll in an electricity plan from the light company you choose. You can view our TrustPlan™-vetted rates from the best electricity providers in Texas and enroll online in less than 10 minutes on Home Energy Club.
Your new electricity provider will send a request to start your service to American Electric Power. AEP will turn on your energy typically within 7 business days of the date you request, presuming that the weather and their schedule for other jobs permit.
Acquire your permit by checking with the permitting entity for your area. Call 866-223-8508 for more information about permits.
About American Electric Power (AEP)
American Electric Power owns the largest U.S. electricity transmission system, a network of about 40,000 miles that includes more ultra-high voltage transmission lines than all other transmission systems in the nation combined. The company is ranked in the Fortune 300 as one of the largest U.S. companies.
The company, founded in 1906 upon replacing the Electric Company of America which launched in 1899, was named American Electric Power in 1958. The company developed the first power plant in the world to reheat steam as a source in generating electricity. The company acquired the following operations since the 1920s:
Indiana and Michigan Electric in 1922
American Electric Power Company in 1924
Appalachian Power Company in 1925
Indiana Service Corporation of Fort Wayne in 1948
Columbus and Southern Ohio Electric Company in 1980
Central and South West Corporation in 2000
Power Outage Maps for Cities in Central/South Texas